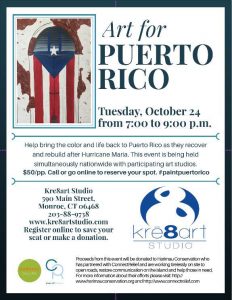 Help bring the color and life back to Puerto Rico as the island recovers and rebuilds.
Kre8art Studio in Monroe is hosting a canvas painting event that is being held simultaneously nationwide with over 20 other participating art studios. The event is 7 p.m.-9 p.m Tuesday, Oct. 24.
Proceeds from this event will be donated to Harimau Conservation, which has partnered with ConnectRelief and are working tirelessly on site to open roads, restore communication on the island and help those in need.
Acrylic paint can stain clothes and will not wash out. Please dress accordingly. Kre8Art supplies aprons but if you are a painter that likes to get into their work then please dress for the paint.
Payment online or in the studio is required to guarantee your reservation.
Spaces are filling up. Register for $50/pp, or leave a small donation, here.
As this is a charity event, payments are nonrefundable and final.
About the event
In Cranford, N.J., Puerto Rico native Tammie Ramos Crispino, owner of Fire Me Up! Studio, created this event.
"We partnered with more than 25 other studios nationwide to inject color and life back into Puerto Rico through art after the devastation of Hurricane Maria," Crispino said in a press release.
Crispino organized the event with studios in Connecticut, Georgia, Florida, Illinois, Maryland, Massachusetts, New York, New Jersey, Ohio, Pennsylvania, South Carolina, Tennessee and Virginia.
"Come paint for a cause," Crispino said in the press release. "Join us and help bring relief to the millions of Americans now in need."
To learn more about the entire event or to host your own similar event in the future, contact Tammie here.