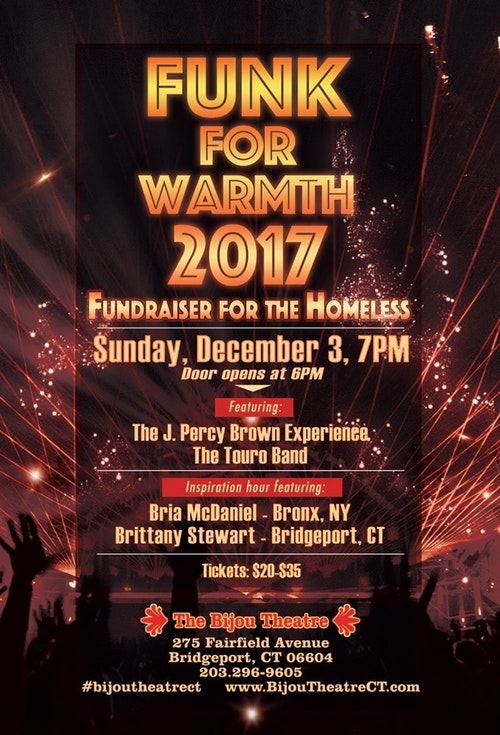 A "Concert for the Homeless" will rock the Bijou Theatre in Bridgeport on Sunday, Dec. 3, bringing help to a community which faces mounting challenges every time winter approaches.
The J. Percy Brown Experience band started this effort last year at a much smaller venue, the Acoustic in Black Rock. In their initial run, the organizers filled and distributed 100-plus backpacks with personal items and clothing, all distributed to local people dealing with homelessness.
This year, the effort has grown. They have partnered with the Bijou and the New Vision International Church of Bridgeport. The inspirational portion will be more of a subtle spiritual uplifting atmosphere with Bria McDaniel from the Bronx, N.Y., and Brittany Stewart of Bridgeport.
In the second hour, the Touro Band will open up, featuring Chris Daly.
The J. Percy Brown Experience is a family affair that will headline the night of the event. It's going to be one funky night. All proceeds will go toward care packages with hand warmers, sweaters, scarfs, gloves, sanitizers, etc.
The evening also features Jonathan DuBose, who is also the music director for Harry Connick Jr. and will perform with his brother, the Rev. Kenneth DuBose.
Doors open at 6, and the concert begins at 7, ending around 10 p.m.