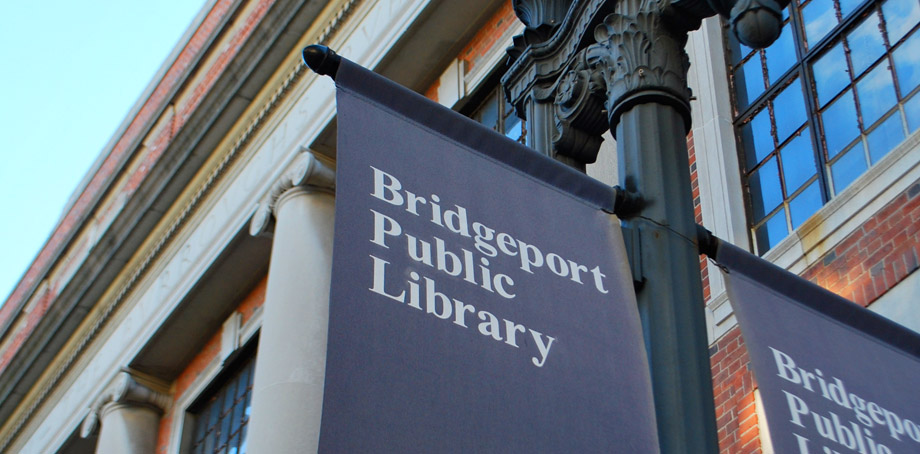 "How can my Town Committee improve the civic climate in Bridgeport and how can I participate?"
That's the big question many city residents are asking themselves these days.
Several groups are organizing a forum to spell it out and encourage broader public participation in local politics.
The 90-minute Town Committee Forum starts at 10:30 a.m. Saturday, Oct. 28 at Bridgeport's main library (Burroughs Saden) in the first-floor community room. The event will include a special panel of Bridgeport citizens with hands-on knowledge and experience: Christopher Caruso, Rick Torres, Lisa Parziale, Sauda Baraka and Vin DePalma.
Bridgeport political Town Committees, to create a more equitable political system, should be more representative of our diverse communities.
Town Committees have one primary purpose: they appoint the candidates who run for office. Bridgeport has a Town Committee for Democrats, Republicans and the Working Families Party. All three parties are represented on the forum's panel.
Learn how each party is different, and how they organize their selection process.
Committees meet on their own schedule, and each one has a processes for encouraging membership, fundraising and forming committees to carry on their operations.
Unfortunately, with the same people running Town Committees year after year, it's easy for the majority of citizens to begin to feel disenfranchised and left out of the decision-making process. It is no surprise that we suffer dismally low voter turnout across Bridgeport.
So what can be done?
To reclaim our seat at the table, it is timely to understand what a political Town Committee is and what it can do. What does a healthy and vibrant Town Committee look like? How can someone run for a seat on any of the city's Town Committees?
Better Bridgeport is presenting this a non-partisan discussion of these questions and more — to learn about the role of the Town Committees, and how your participation is essential to making more voices be heard.
Other community groups — The Greater Bridgeport Latino Network, Bridgeport Generation Now, Greater Bridgeport NAACP, Make the Road, I ♥ Bridgeport, and the Bridgeport Library  — are co-sponsors of this free non-partisan forum.
March 6, 2018 is the next election for all Bridgeport Town Committees, and across the entire state.
The Greater Bridgeport Latino Network encourages anyone considering engaging in politics, and possibly running for an elected position with the city, self-educate by attending as many meetings as possible that are open to the public: City Council, Planning/Zoning, Board of Education and Library Board among them.
Volunteering on campaigns is another way to familiarize yourself with Bridgeport politics.
Use the city's official website as a resource guide.
To learn more and get tickets, see the Events Page.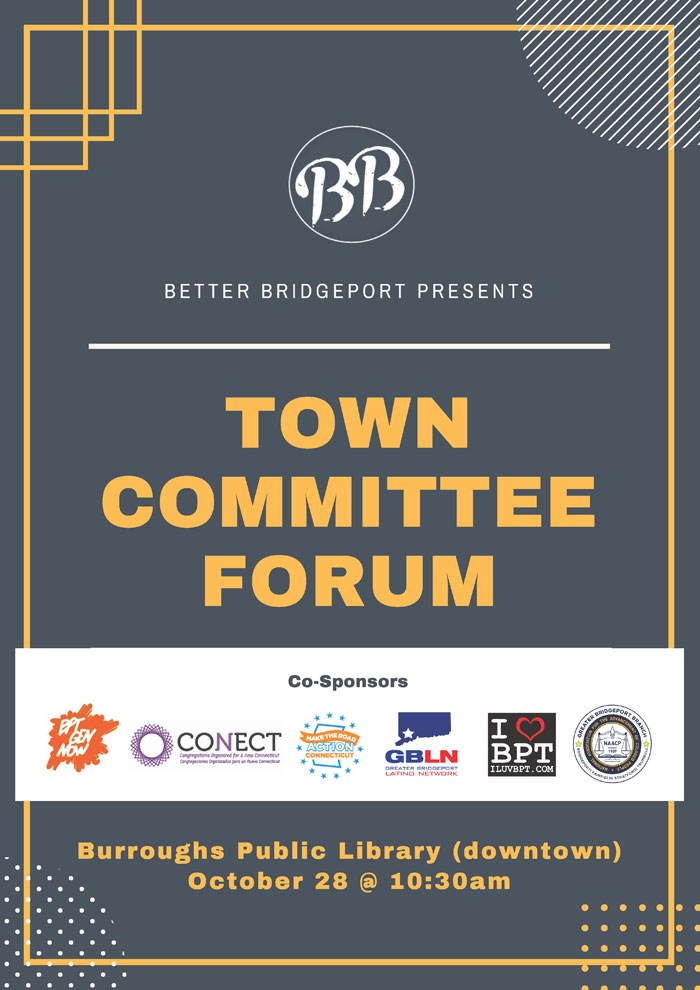 Who's on the panel
Sauda Baraka is serving her third term as an elected member of the Bridgeport BOE. She was elected Chairperson of the Board in 2013, and currently serves as Vice Chair. Baraka is President of the Board of Directors for Believe in Me Empowerment Corporation in New Haven. She has been a member of the Bridgeport Public Library Board since 1991 and is currently the Vice President. She serves on the Executive Committee of the Bridgeport Chapter of the NAACP as the Chairperson for Criminal Justice. She retired from the State of Connecticut Judicial Department/CSSD Adult Probation after 22 years of service. She is married with five children and five grandchildren.
Christopher Caruso is a former Democratic member of the Connecticut House of Representatives, representing District 126 from 1991 to 2011. Caruso resigned to serve on Gov. Dan Malloy's housing, urban initiatives, and smart growth group. Prior to leaving the House, he served as the Deputy Majority Caucus Chair. Caruso served on the Bridgeport Democratic Town Committee and was Town Chair from 1986 to 1988.
Vincent Di Palma is a lifelong resident of Bridgeport. He has been a member of the Democratic Town Committee for 10 years and is on the Board of Directors of the Water Pollution Control Authority. He attended Saint Raphael's Grammar School and graduated from Notre Dame High School in 1977. Di Palma has been employed by Paul Miller Nissan for 40 years. He has been married to his wife, Linda, for 35 years. He is an avid runner and has completed many marathons. He also enjoys attending hot yoga classes.
Lisa Parziale was born, raised and educated in Bridgeport. She became a member of the Democratic Town Committee in 1980 and was a district leader. She served on the Bridgeport City Council, representing the 132nd district from 1983 to 2003. She was elected Council President in 1985 and served in that position for 10 years with two Democratic and two Republican administrations. After leaving the City Council in 2003, she served a two-year term as Democratic Registrar of Voters. She has owned a construction company and has been a licensed Realtor since1995.
Rick Torres was born in Bridgeport and moved back to his family's native Cuba when he was a young boy. Five years after Fidel Castro came to power, his family returned to America. He graduated from Washington University in St. Louis in 1983. Torres and his wife Michele have purchased and restored many run-down properties in Bridgeport, including the Harborview Market in Black Rock, which they have owned and operated since 1993. In 2003, Torres ran for Mayor of Bridgeport on the Republican ticket. Prior to his mayoral run, he took an active role in a number of neighborhood and community organizations, and ran for several local government offices. He was elected to the City Council in 2013 and served one term as its sole Republican. Rick and Michele have five children.