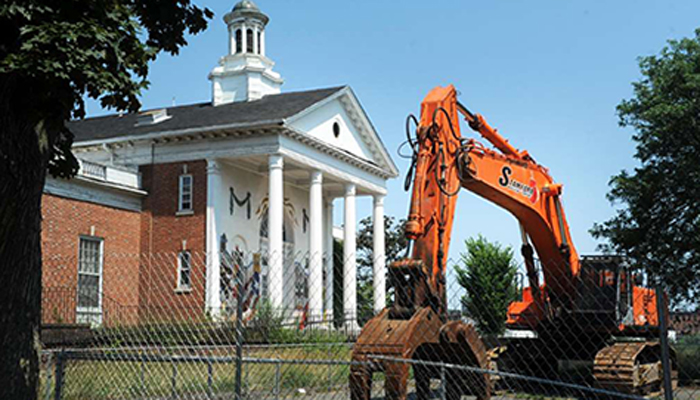 A beautiful landmark building, the former ASPIRA of Connecticut building, is about to be torn down. This Saturday, a rally be organized to defend it.
The Sanborn Library building has a contemporary mural on it which is a significant symbol to many in the Latino community and especially Puerto Ricans. There is already a lot of interest on social media about the mural itself. Other folks are focusing on saving the building for its historic significance.
Carolyn Gonzalez, the GBLN president, will be there and we urge you to be there as well.
The Save the Sanborn! rally is a half-hour to 45 minutes of community action, starting noon Saturday, Aug. 11,  at 1705 Fairfield Avenue, Bridgeport, rain or shine.
About the Sanborn
Threatened with demolition, the now privately owned Sanborn Library building has marked a western gateway to the heart of downtown Bridgeport for nearly 100 years.
This "jewel box in the park" is the award-winning design of famed Bridgeport architect, Leonard Asheim, who also designed the Klein Memorial Auditorium, and Achavath Achim Synagogue and the Good Shepherd Church on Hancock Street, which is listed in the national register of historic places.