All good musicians like to seek out new sounds. But sometimes, they want to go back in time and rediscover their musical roots.
That's the spirit with which Bridgeport's own Rick Reyes prepares for the Puerto Rican Songbook this Saturday. The concert, sponsored by the Greater Bridgeport Latino Network, honors Puerto Rico's authentic and profound contribution to world music.
Reyes will be joined by special guests, the sensational Campo de Humo, in taking the Bijou Theatre audience from the formality of Danza to lively, laid-back Jibaro music; Bolero to Trova, Plena to Salsa. You won't be able to see anything like this anywhere else.
"The show is proving to be both artistically challenging and personally rewarding. We are covering a lot of ground with several styles of music and genres in one night. The musicians are from very strict folkloric disciplines, so I'm learning and adapting, which I love," says Reyes. "As a songwriter I'm relishing this opportunity to revisit, learn and study. It is the kind of effort that eventually seeps into your own work. The goal is to honor tradition and to also add a subtle touch of fresh perspective and flavor. That's when I come in."
The musician reflected on what the Songbook means to him personally.
"As a musician, this is an opportunity to look back and review our Puerto Rican heritage, which is quite unique," Reyes says. "When you look at the history of Puerto Rico, with very unique circumstances politically, and ethnically."
Music is a good way to highlight the island's rich history, says Reyes, who was born in Bridgeport, but raised in Puerto Rico until he was 13.
"For such a small place, this tiny little place has given so much to the world, even to this day.  What is it about this little tiny island that it has so much influence?"
And the Puerto Rican Songbook — the archive of the island's traditional music, dating to the early 20th century — is comfort food for Rick Reyes.
"It's like coming home and have your Mom cook you that special meal," he said. "I think that's what the Puerto Rican Songbook is for a lot of people."
Rick has gathered nine musical artists who will appear on stage Saturday at Bridgeport's intimate jewel box of a theater, the Bijou, where Reyes is Artist-in-residence for a year. Rick's co-artists are coming in from New York City and Hartford, excited about the premise of the night's event. "Everyone wanted to do it," he says.
With just over 200 seats, the restored venue is a perfect place for lovers of Puerto Rican heritage to gather and reflect, and the show is a reminder of how exciting it can be to spend time downtown.
Before the show, appetizers will be served and a cash bar will be open for business, for a convivial social hour.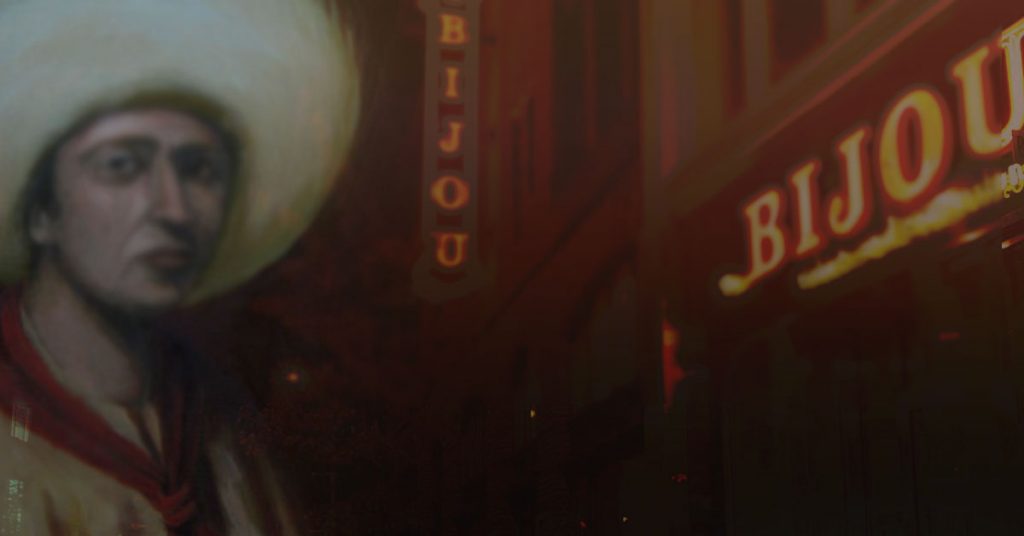 This is a big, busy year for Reyes. Not only is he Bijou's artist in residence and overseeing much of their programming, but he's been named Grand Marshal of the Puerto Rican Day Parade this summer.
"When people think enough of you, you can bring attention to cool things," says Reyes.
Anyone paying attention to the news will see this is a big year for Puerto Rico, which is in the throes of a financial crisis.
"At a time when Puerto Ricans everywhere are dismayed and concerned due to the fiscal woes on the island, we hope this uplifting show will remind folks of the positive and lasting contributions Puerto Rico has made and continues to make," said GBLN President Carolyn Gonzalez.
If you go…
What: The Bijou Theatre has partnered with the Greater Bridgeport Latino Network (GBLN) and Artist-In-Residence, Rick Reyes, for a special GBLN event and tribute to the Puerto Rican Songbook.
Who: Singer-songwriter Rick Reyes, of Cosmic Jibaros, Pasofino Social Club and Novela Sin Tiempo fame, began his residency with the Bijou in March 2016. Throughout the year, Rick will be producing and performing at The Bijou. The shows will feature all of Rick's musical projects as well as special productions for the theater.
When: Doors open at 7 p.m. Saturday, April 16, with pre-show appetizers courtesy of El Coquito Restaurant and door prizes courtesy of GBLN. Full cash bar. Show starts at 8 p.m.
Cost: All seats are $25, with table seating available on a first come first served basis.
Why: Proceeds will benefit the Greater Bridgeport Latino Network, a nonprofit organization that promotes community engagement to address the socio-economic issues affecting Latinos through networking, communication, collaboration and education. Visit www.gbln.net for more information.
The Bijou Theatre is a multi-functional venue with an open-minded philosophy, whose mission is to bring performing arts to center stage in Bridgeport through film, theatre, art, comedy and music. Visit www.thebijoutheatre.com for more information.
GBLN is grateful for assistance from event sponsors Allure Dental Group, Radio Cumbre and El Coquito Restaurant.
Listen to Rick discuss the program on WPKN:

Download the flyer